Hypomeeting Götzis 2019: Review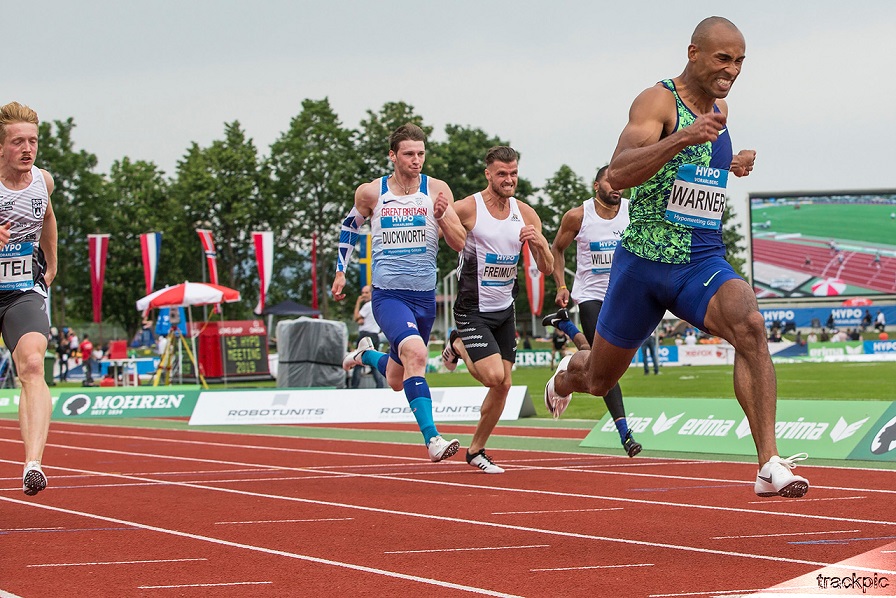 The magicians of the track and field pulled rabbits out of hats, sawed poles in half, made world-bests disappear before our eyes, and pulled the lucky Doha and Tokyo aces from the pack of cards. The magic of Götzis had returned to the Mösle Stadium.

A few weeks earlier in Lana, behind the headline of Jan Doležal's inspired win, the stories included the emergence of a new generation of stars aiming for the European Under 23 Championships in Gävle in July, and the three Estonians recording eleven PBs between them. While Doležal and Adam Sebastian Helcelet withdrew at the last minute to take care of some injury niggles, there was a similar story in Austria as the Germans annihilated their personal best marks.

Niklas Kaul and Manuel Eitel recorded seven new marks between them, Tim Nowak demolished his previous shot and discus bests and had a bonus 1500m best, and there was a splendid shot PB for Kai Kazmirek in his first decathlon back after injury. Lindon Victor had the longest marks in the shot and discus (his discus including an interlude to chase the local rabbit that had strayed onto the track), but he couldn't compete with Niki Kaul who threw 71.49. The throws were also good to Janek Õiglane, going over 15m in the shot and just short of 70m in the javelin.

In the Decathlonpedia Hypomeeting preview, we anticipated a sprinkling of magic dust from Maicel Uibo. And in the two "last man standing" events, the high jump and the pole vault, we saw that magic as Uibo announced that he was back. He left Tim Duckworth (2.09) and Cedric Dubler (2.06) in his wake in the high jump with 2.15, and then casually passed all heights above 5.00 to clear 5.30 and then retire, sharing top points with Tim Ehrhardt in the latter's first outing at Götzis.

Coming into the competition twelve men already had the qualifying mark for the Doha World Championships, and by the end of the competition Warner, Victor and Uibo (the eventual 1-2-3) had gone further and surpassed 8350, the automatic qualifying mark for the two-tier approach to the Olympic Games in Tokyo.

With 8336 points in fourth, Kaul was just short of the Olympic qualifying mark, and if Gävle wasn't already shaping up to be the most exciting decathlon of the season, it just got a whole load more interesting, given that Kaul had a far from ideal first day.

While Kaul was only 14 points below the Tokyo standard, Cedric Dubler was only 15 points below the Doha qualifying mark, with 8185 in eighth. Of those who don't yet have the qualifying mark, Manuel Eitel (8128), Jorge Ureña (8123), Õiglane (8050), Ash Moloney (8038) and Fredrik Samuelsson (8022) also scored over 8000 points, and it can only be a matter of time until they reach 8200.
Lindon Victor was one of several men who had an excellent competition, amassing the most points across the three throws. But the World U20 champion Ash Moloney stole many of the headlines. Stepping up to senior competition he had the second fastest mark - with Eitel - behind Damian Warner in the 100m and ran the fastest 400m time in the field with 46.97. Ash has lots of room for improvement in his pole vault and 1500m but what an arrival at Hypomeeting Götzis for the young Australian!

Pieter Braun also had one of the best performances, slowly working his way up the leader board and into the top ten after the shot. He lurked ominously around eighth and ninth, until launching an almost four metre improvement in his javelin to bring him up to fifth place, the position where he eventually finished. Jorge Ureña's speed had taken him to indoor gold in Glasgow in March, and he brought that speed to Götzis, improving his 2018 Berlin 100m and 400m marks to 10.76 and 48.36 respectively.

While Kazmirek and Uibo enjoyed good returns to competition, albeit that Kai's rhythm in the competition was affected by a snapped pole, Rico Freimuth and Eelco Sintnicolaas were less fortunate, Rico succumbing to injury after the shot and Eelco withdrawing with hamstring problems during the high jump.

As experienced decathletes compete alongside those still in the first few years of their careers, Götzis is also a place to learn.

While he had a rough two days, Tim Duckworth managed to end on a positive note, clawing his way back from no-man's land in the 1500m to improve his best by over a second, continuing his trend from the indoor season. Reflecting on his first experience of Götzis, and more generally on his transition from college athletics - in previous years he would have been watching the live stream of Götzis from the NCAAs - he said:

"It's different. You don't get it until you experience it. Getting out of competing every few weeks at a high level, where you're competing against Grant Holloway, training with Daniel Roberts. You're crisp over hurdles, considering you're used to running against the guy that runs 13.0; you're used to long jumping against 8.00m guys every other weekend. And so it's easy to get your energy up to compete to get up there in the rankings. So, it's a hard year. It's something I need to think about, learn about and move onto Doha and next year.
Janek Õiglane also continued his journey back from his truncated European Indoor Championships. After a shaky start in the 100m, he built up momentum with a good 7.26 long jump and gained confidence from a 15m plus shot. "I need to get used to competing in decathlon again, but I'm happy with my performance. Everything was good for me except the high jump. I knew that my ankle was going to disturb me a little bit in my high jump, but it disturbed me too much, and I needed to do as few jumps as possible. "

And the high jump was the decathlete killer. Karl Robert Saluri no-heighted, as did Vitaliy Zhuk and Romain Martin. Newly authorised neutral athlete Artem Makarenko and Asian champion Keisuke Ushiro did the similar Full Kevin in the long jump with three no-jumps. But while no-one wants to experience a zero-scoring event, when considered as part of the big picture, it can bring a learning opportunity.
Kevin Mayer is one of the most famous victims of three fouls in recent times, but the same thing happened to Damian Warner in the Gold Coast Commonwealth Games in 2018, where he no heighted in the pole vault. Speaking to Decathlonpedia on Friday evening, he had some words of wisdom to share with athletes who find themselves with the dreaded XXX.

"I was definitely motivated to improve. And frustrated, because it didn't go as well as I wanted to. In 2015 here at Götzis I had three fouls in the shot put and that was the first time that had ever happened to me. And I just remember that I went to the Canadian championships and that was the first time that I broke the Canadian record. So, I knew how motivated I was after that. And when I saw Kevin get his fouls, I knew something special was going to happen. It's so tough as an athlete to go through a decathlon and it not work out so well and to have to wait so long, and you know that for that next one you are really going to go after it. That's what I did here in Götzis last year and it really worked out for me, and that's what happened to Kevin in Talence. Obviously, you don't want those things to happen very often, but if it does happen, just know that it's not the end of the world."

Damian. We should talk about him. Well, he had a pretty good two days himself. He won the overall event with 8711 points, over 200 points ahead of the eventual 2018 Commonwealth champion Lindon Victor in second and matching the five victories of Carolina Kluft and Roman Šebrle. He extended his discus personal best for the second time this season with 47.23. On Friday, before the competition, he confirmed that he was pleased with where his fitness was, and that it would be nice to see how that translated.

We saw how that fitness translated on the morning of Saturday 25 May 2019, a date that will record 10.12 seconds as the fastest ever 100m time in a decathlon in history.

The Magic of Götzis. It's alive and well.
Photo: Trackpic