Hypomeeting Götzis 2019: Preview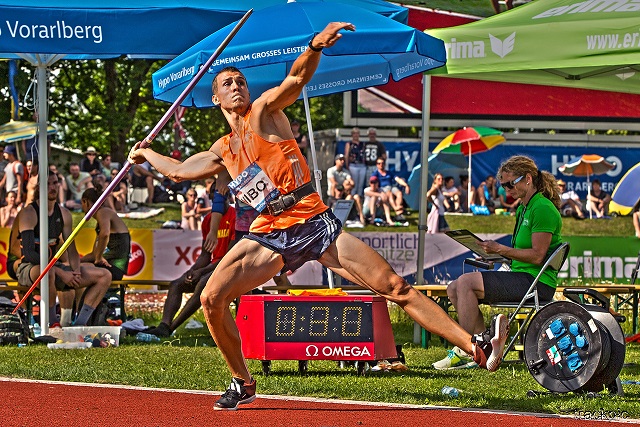 The late timing of the World Championships appears to have resulted in an extension of winter into April and May, with the cold and windy conditions of day two of Multistars in Lana thwarting attempts to achieve qualifying marks for Doha. And torrential rain and thick fog greeted the first participants to arrive this week a few hundred kilometres northwest of Lana in Austria, for the 45th edition of the Hypomeeting Götzis.

Four of the top five from Lana – Jan Doležal, Mathias Brugger, Martin Roe and Tim Nowak - along with Simone Cairoli and Adam Sebastian Helcelet, continue their decathlon season at the Hypomeeting, joined by thirty other competitors from around the world. The field is a mix of seasoned Götzis veterans and athletes experiencing Götzis for the first time, and the strength in depth is - as usual - first class. Fifteen of the top twenty from 2018 are due to line up for the competition on Saturday and Sunday.

The target for the Doha World Championships is 8200 points, and twelve men in the field have already secured the score during the qualifying period which began on 7 March 2018 and runs through to 6 September 2019: Damian Warner, Maicel Uibo, Peter Braun, Tim Duckworth, Kai Kazmirek, Ilya Shkurenyov, Mathias Brugger, Lindon Victor, Vitaly Zhuk, Tim Nowak, Martin Roe, and Niklas Kaul. For the Germans in particular, the qualifying score does not guarantee a place on the plane to Doha, and the German performances between now and September are going to be one of the highlights of 2019. Cedric Dubler was also over 8200 in 2018, but the timing of the Australian season means that his mark in February falls just outside the qualifying period.

So, what can we expect from Götzis? Well, even if the weather does not improve, Götzis will be an important chapter in writing the story of 2019 decathlon. Four-times Götzis winner Damian Warner is coming into the competition looking sharp, particularly in the throws, recently improving his shot PB to 15.16m, throwing within 30cm of his discus best, and ducking under 21 seconds for 200m. Prior to his injury at the Australian Championships in April, Ash Moloney has also been in great form and aiming for the right side of 8000 points for the first time in his career.

European Indoor champion Jorge Ureña delivered some substantial improvements to his indoor long jump and shot marks which we might anticipate being reflected outdoors, and Janek Õiglane has hopefully recovered fully from his freak pole vault injury in Glasgow, and able to pick up where he left off in his strong return to the indoor season in 2019 after missing 2018. European indoor silver medallist Tim Duckworth has improved his hurdles time already this season, with room for further polishing, and we can expect him to take a chunk off his 1500m time following his game-changing 1000m from March. Manuel Eitel, in his first competition at Götzis, is one of the fastest men in the field, and we are now seeing that speed start to translate into other events, and his hurdles time has improved this season.

But the most fascinating element of Götzis will be watching the return to competition of the seven men in the field who have scored over 8500 in their lifetimes, many of whom have had a number of challenges to deal with over the last year. We know Damian Warner and Lindon Victor are in good shape. Ilya Shkurenyov had a few frustrating events in Glasgow but showed some signals towards his form from 2017. Kai Kazmirek did not take up his automatic qualifying place in Glasgow following a niggle earlier in the season, and Rico Freimuth will return after having a break in 2018 after the 44th Hypomeeting. Eelco Sintnicolaas is also on the road back from injury, and we may see a little of the magic of Götzis next weekend if the glimpses of Maicel Uibo in training are anything to go by.

In the run up to Götzis, we wrote about why this meeting is so special, with Fredrik Samuelsson and Tim Duckworth sharing their perspectives and Dominik Siedlaczek taking us through the steps of his first, somewhat overwhelming, experience of the meeting back in 2014. For Dominik Distelberger, this year will also be a return to competition after some injury challenges, and he added his thoughts to the collection of tributes to Götzis:

"My favourite thing about competing in Götzis is because of the amazing crowd, and I think this crowd is one of the best in the world. And also because of the competition – all the great decathletes are competing there, and this is a very special atmosphere."

Niels Pittomvils returns to action after injuring his knee at last year's event, Artem Makarenko joins the field after missing eligibility for Glasgow by a few days and Vitaliy Zhuk will be looking to build on his marks from the indoor season, including his giant shot of 16.32m. Karl Robert Saluri's and Pieter Braun's indoor seasons were disrupted, but Saluri has already been over 8000 points this year, and Braun will be looking to get that first 8000 plus mark under his belt. Romain Martin brings the fearsome French challenge, Pawel Wiseołek has been mirroring the exploits of Damian Warner and logging 200m and discus PBs in the last few weeks and Keisuke Ushiro arrives as the 2019 Asian Champion, with a hefty shot PB.
Tim Ehrhardt makes his debut in Götzis with the fourth best score in the world so far and a 2018 pole vault mark which exceeds the Hypomeeting competition record of Erki Nool. Oleksiy Kasyanov rejoins the fold after missing qualification for Glasgow, Marcus Nilsson enters the season having taken half a second off his indoor hurdles PB, Devon Williams brings the accessory of the season - a discus PB - to the start and the line-up is completed by Götzis' neighbours from across the border in Switzerland, Luca Bernaschina and Andri Oberholzer.

Decathlonpedia will be there with you in Götzis: Adam on the track and in the field as he tackles his second decathlon of the year, and Dominik and Gabby bringing you the stories, results and interviews from the Mösle Stadium.
Photo: Olavi Kaljunen, Trackpic